This morning was a great morning watching the short graduation ceremony, everyone did great!  Some of our friends have been with this child care center, Edgewater Preschool since 18 month old toddlers, they have grown a lot and we are confident they will be ready for Kindergarten this coming September.  Thank you to all the parents for sharing your children with us during their preschool years.
Edgewater Preschool  in Long Beach had a fun week celebrating NAEYC's Week of the Young Child, from toddlers to Pre-K, they had a great time!
From NAEYC's website:
What is the Week of the Young Child™?
The Week of the Young Child™ is an annual celebration sponsored by the National Association for the Education of Young Children (NAEYC), the world's largest early childhood education association, with nearly 80,000 members and a network of over 300 local, state, and regional Affiliates.
The purpose of the Week of the Young Child™ is to focus public attention on the needs of young children and their families and to recognize the early childhood programs and services that meet those needs.
NAEYC first established the Week of the Young Child™ in 1971, recognizing that the early childhood years (birth through age 8) lay the foundation for children's success in school and later life. The Week of the Young Child™ is a time to plan how we—as citizens of a community, of a state, and of a nation—will better meet the needs of all young children and their families.
We kicked off The Week of the Young Child with a fun parade around our Long Beach! We made our own instruments in our preschool and toddler classrooms and marched around on the grass area! We also released our butterflies from our classroom. One of them let us hold it.
We went on a field trip to Tanaka Farms and it was a beautiful day!  We took a tractor ride through the fields and tasted farm fresh vegetables picked right out of the ground!  We tasted carrots, onions, cilantro, celery, bok choy and of course all the strawberries we could eat!  We were able to see other vegetables and fruit trees as well. We saw lettuce, beans, carrots avocado trees, peach trees, apple trees, and banana trees (did you know that the bananas take up to 2 years to ripen because of our mild California climate?).  As we roamed through the strawberry fields we learned how to pick the perfect strawberry! We sampled as many as we could eat!  We had a great educational and nutritional field trip to the farm.
Our Spring Party was filled with so much fun! We made Angel Food cake, cut up Strawberries and then ate Strawberry Shortcakes for afternoon snack. After enjoying our snack we went outside and decorated little flower pots with stickers and markers. We added soil to our pots and planted a variety of seeds inside of them. Our day was filled with fun activities. We enjoyed the beautiful Spring day!
We're helping our teacher feed the chickens and the bunny!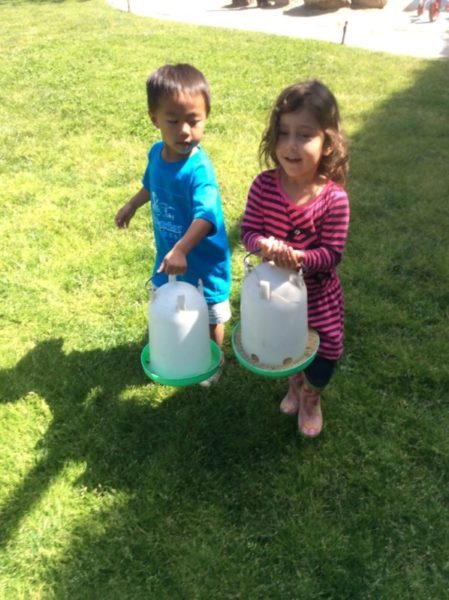 Our friends are using their sense of tough to feel "goop" made of corn starch and water.
The children are having fun watering and planting vegetables in the garden.
It looks like we may have some future entomologists on our hands! They are using magnifying glasses to study pretend bugs.
The Pixies made flower wreaths for their hair today in honor of Spring!
We are preparing our garden for newly planted seeds! We removed some carrots and vegetables and fed them to our chickens and rabbit.
Today was our field trip Centennial Farms at the Orange County Fairgrounds where the children visited with chickens, baby chicks, rabbits, peacocks, pigs, geese, sheep, oxen, cows, and calves.  The children (those brave enough) even got to pet and rub the head and body of a billy goat, calf, and a cow!  We walked through vast gardens of all sorts of vegetables like sweet peas, tomatoes, carrots, Brussels sprouts, broccoli, and lots of different lettuces.  They had a few fruit trees too like: star fruit, apple, and guava.  There was a big barn where they demonstrated how they milk the cows and goats.  And a tall windmill using the breeze to power a water pump to demonstrate how they get water from the well above ground for the animals to drink! We also learned that an Ox is not a breed of their own! They become an Ox when they are altered and are used as a working bull!