Edgewater Preschool older classes went to the Shark Lab and Marine Lab at Cal State Long Beach last week. The children were able to see different species of sharks and then went next door to the Marine Lab where they were able to look at different types of sea animals and creatures. The lab also has an area where the children are able to look at and touch the sea animals and creatures to see what they feel like!
Our Pre K graduation was a success! We walked, sang for our families and accepted our diplomas. We are about to begin a new journey in kindergarten!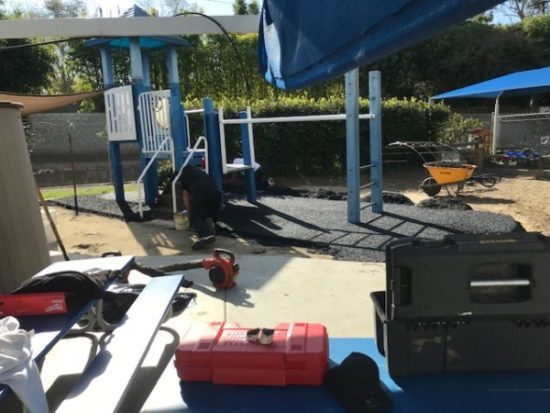 We want to thank everyone who donated and attended our End of the Year Program. The classroom performances were very entertaining, and the children deserve a round of applause. The event was a success, and thanks to you, we made a profit of $2,453! We combined this with last year's $3,078 for a total of $5,315. As always, the Fosters (owners) matched our fundraiser efforts (up to $3,000 per year), and we ended with a grand total of $10,906. All funds were used to upgrade the safety padding under the play structure on the preschool yard. Thank you for helping us with this very expensive project. A lot of work was done over winter break including; padding, painting, tree trimming, grass reseeding etc.…
We finished our Pre K year off with graduation today at Edgewater Preschool! We wore our cap and gowns and performed songs for our families. After we sang we accepted diplomas from our teacher. We are heading into summer and getting ready to move into Kindergarten in Fall!
The Week of the Young Child was filled with many different and exciting activities. We kicked our week off with Musical Monday by creating our own instruments and having a musical parade. We also had a crazy hair day. Tasty Tuesday was spent talking about healthy eating habits and sports activities. We created an obstacle course, played hockey, bean bag toss and parachute play. Working together Wednesday was filled with team building activities and discussing what you want to be when you grow up. Some of us even dressed the part! We created a drum circle together and made friendship handprint quilts where we painted our friends hand and added the print to the quilt. We also built using recycled materials and ran a three legged race. Artsy Thursday was made up of silly dressing and stations for all of the children to explore a variety of activities. We had four goop stations, two collage tables, a beading station, a table full of shaving cream fun and painting with sea creatures! Friday was our time to talk about our families. We shared pictures of our families and talked about where the pictures were taken. Enjoy all of the awesome pictures of our amazing week here at Edgewater Preschool!
Today was our yearly staff in-service at Edgewater Preschool. Some of the day's activities included, working on the outside classroom and practicing ways to increase physical science awareness for the children we serve. We also reviewed emergency procedures.
We would like to extend a big THANK YOU to one of our families for sponsoring an amazing lunch from local Long Beach El Burrito Grill
Today was Edgewater's final field trip of the school year to Tanaka Farms! We were able to taste a good variety of veggies during our wagon ride and then stopped to pick and eat as many strawberries as our tummies would allow! Thank you Tanaka Farms!
Thank you to Funtastic Dental in Long Beach for coming to Edgewater Preschool! The children were able to come up with great ideas for keeping their teeth healthy! The children also enjoyed the pictures of the sugar bugs and clean teeth!
We wanted to thank our parents here at Edgewater by treating them with on the go coffee and treats! A huge thank you to all of our Edgewater parents! We adore and appreciate all of you!